All of us at A SOULIS ENTERPRISES LTD are committed to providing our services (lifting and transportation) and products (cranes) to our client's satisfaction, always honouring the contractual terms while maintaining the highest of quality levels.
Our company ensures that all necessary health, safety and environmental measures are taken, in order to protect our staff and the public. We always work with respect to the environment.
It is therefore our priority and policy to:
Achieve the best quality products and services to our customers in order to fulfil and exceed their demands and expectations.
Achieve the highest standards of health and safety performance through the minimisation of risk.
Minimise the environmental impact of our activities in terms of resource consumption, pollution and waste creation.
Exceed the expectations of our customers' and stakeholders.
In order to realise this policy objectives, we:
Foster an industry best safety culture through the right personal attitudes and behaviours in a supportive work environment using effective processes.
Establish all necessary measures for prevention of accidents, incidents and professional diseases and provide a healthy and safe working environment.
Establish all necessary measures for prevention of pollution.
Are committed to consultation and participation of our employees and the HSE committee in health, safety and environmental issues related to our company.
Comply with all the applicable health, safety, environment and employment legislation and international treaties.
Continually improve our safety, health, environment and quality performance.
Establish and resource improvement plans with challenging and measurable objectives and targets.
Expect the co-operation and commitment of everyone on, or connected with, the site in delivering improved performance.
Work positively with all our associates, our customers and all other stakeholder organisations and individuals; strive to understand their needs and meet their requirements.
The adoption of a Management System according to the ISO 9001, ISO 45001 and ISO 14001 standards and the European Regulation EMAS contributes to the realisation of the Policy Goals. This policy forms the basis for the establishment of objectives and it is communicated to all personnel with the aim of its implementation.
With this policy statement, we are committed for the continual improvement of the effectiveness of our Management System through the systematic monitoring of its performance and the implementation of the necessary improvement actions. The policy and the objectives are reviewed during structured management reviews at least once a year in order to ensure their continuing suitability.
Andreas Soulis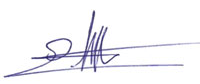 Managing Director